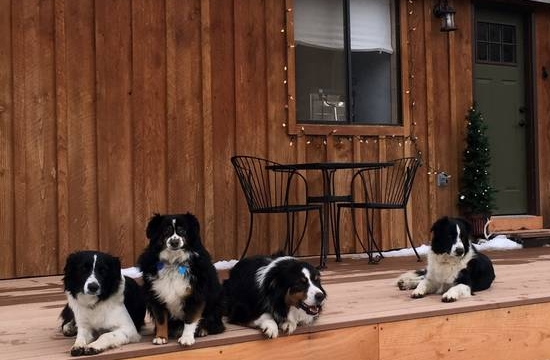 Tex, Sparky, Ruger and Mickey are great dogs, BUT all four are over the new 20lb size limit!
Effective immediately, due to several requests, Moonshadow Festival is modifying the no-dog policy. For the festival, we will only allow dogs that are 20lbs and under. We absolutely will not allow dogs over 20lbs. If you arrive with a bigger dog, you will be asked to leave the premises, with no refund.
Dogs must be on leash at all times and are NOT allowed in the main festival grounds.
You are allowed to hike with your dog on the ranch, as long as it is leashed.
Picking up after your dogs is mandatory. Trash receptacles are provided in campgrounds and we ask that all dog waste is disposed of properly.
Licensed service dogs are an exception, please see the FAQs for more info.
Please be sensitive to your dog's needs. Because of the high temperatures we expect during festival weekend, we ask that you only consider bringing your dog if absolutely necessary. Shade is considerably limited in camping areas. Unless you have a shade cover or air conditioner, we highly advise you do not bring your dog. Ensure you have enough water for your pet (along with your humans) to last the entire weekend, including the travel time.
We are dog lovers ourselves and have four of our own that will play hosts to all of our guests, so we have decided to change the No Dog Rule. However, we will strictly adhere to our 20lbs and under rule, so please be considerate and know that we will turn you away if you bring in a larger four-legged friend.